At the Ballet Barre: Motion to Music
The music for movement in my studio is as varied as my mood. As many choreographers and dancers will tell you, virtually any piece of music can be used to express through dance, think of Balanchine's genius as a perfect example.
Whether Adagio or Allegro, the choices of my music are on a wide spectrum. Think about the great fun you can have with turns and leaps to Michael Jackson's 'Invincible'.
I also adore Christina Aguilera and it evokes very strong emotions in me. I used one of her songs for a simple dance video of me doing careful pointe after three months rehabilitation recovering from a hip flexor injury, but due to possible copyright problems I cannot share the original here.
How do YOU like to move to music?
Bottom line: dance for yourself, whenever and wherever your heart takes you.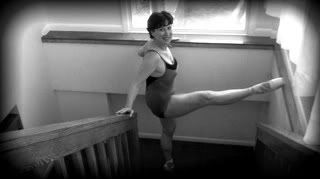 Impromptu barre - Virginia Beach - May 2011